Serguei Popov world class artist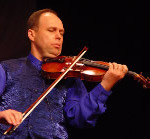 Serguei  was born in the former Soviet Republic of Georgia. He graduated with a Master's degree from the Music Academy of Kishinev in Moldova.
As a professional violonist at the Moldova State Philharmonic and the Moldova National Orchestra he performed internationally with both.
Since 1992, Serguei has dedicated his music to the LORD, travelling around the globe. Being a concert master of an international orchestra in Jerusalem, he travels each year to Israel to attend the annual Feast of Tabernacles serving there with his music.